How open is the Chinese DJing market for foreigners?
DJ Euphoria from Kharkiv, Ukraine

DJ Euphoria is a talented and charming artist from Kharkiv, Ukraine. Her full name is Churuta Olga. She is a professional performer who gives unique shows around the world blowing up the dance floor with amazing energy. Above all, she also creates her own music and lyrics. Her creativity and beautiful voice always leaves only positive vibes in your memory.

Bravishow.com worked with DJ Euphoria in 2011 in China musical clubs.
My name is Sam Lee, as her agent, I find DJ Euphoria is an easy-going DJ. I think the other people will also find her patience and diligence in the entertainment business. She shows to be a topless DJ and sexy performance on stage. She is professional performer to give unique shows around the world blowing up the dance floor with amazing energy. She creates her own music and lyrics. Here are two links on social medias for you to read more:
https://dj-euphoria.bandcamp.com/
https://www.instagram.com/euphoria_of_kiz/?hl=en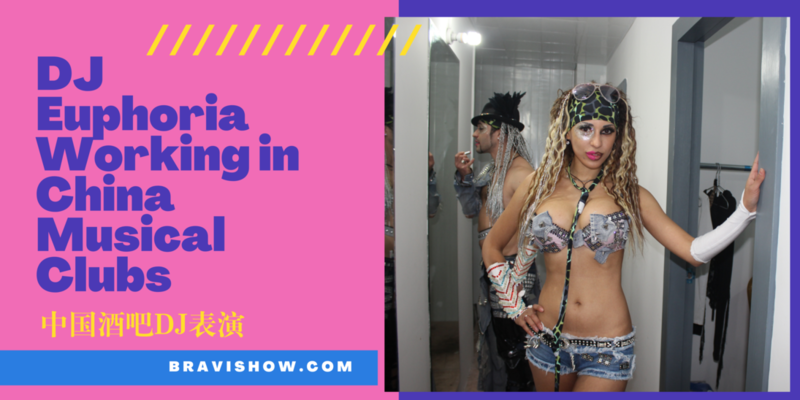 Most Chinese musical clubs are open to foreign DJ.
Some DJ travelled to China a couple of times on business from six to twelve months. There are some opportunities to play at the night clubs in many cities of China, such as, Shanghai, Beijing, ShenZhen, Guangzhou, XiaMen, XiAn, etc. The DJ music styles varies from a electro to progressive house mainly focused on the mainstream market.

One of the toughest parts is the lack of Western Social Media, Facebook, Gmail, Instagram, Youtube, almost all blocked in China. So you would really be dependent on the promoters (Chinese agents) unless you speak Mandarin and can read Chinese.

You'd have to find a place or Chinese agents willing to hire you full-time in order to get a work visa (now called "Unified Foreign Work Permit") and some promoters (agencies) themselves would have the clout. The visa thing will be tricky as you'll need a company to sponsor you.
From the experiences of some foreign DJ living and working in China, DJing are able to make a living. There's certainly a market for foreign DJs, but it's going to be tricky if you haven't got any contacts. There's certainly money to be made from the big mainstream Chinese clubs, as well as some regularly playing for peanuts in smaller spots. Here are some questions the Chinese club managers would mostly ask, have you got any kind of name recognition? Have you released any music? How many fans know about you? It's not a matter of turning up and getting booked just because you're foreign, there's thousands of foreign DJs over China and probably half of them are DJs.

Here is one job review from one DJ living in China:
Some foreign DJ have been living in China and sometimes work in the underground scenes. Most China mainstream clubs often hire foreign DJ's, but it may not be as glamorous as it sounds. They usually work every single night, maybe only a day or 2 of a month. the clubs will have final say over what you play, and some even choose your music. that being said, the money is pretty good, and most big clubs will have the connections to get you a visa. I would recommend getting the China APP Wechat, there are many chat groups about finding club jobs for foreign dancers, djs, etc. If you're interested in the underground scene, I recommend supporting the underground clubs in your city, networking, etc. That's how I made all my connections, and now I have my own party series and play at some of the best underground raves in my city, if you have any questions feel free to leave your message at the bottom of the post.

Another DJ's story in China:
My friend Deejayed in Shanghai, he only got paid in cash and couldn't promote, he was there because of visa laws I'm not 100% of the situation.n A venue where I played at around a year ago offered me to play there again now that stuff's reopening for the summer. While a year ago I was playing for a shorter period of time (4hrs), I seemed to handle the set fairly well. Last Saturday, I played there again for 6.5hrs. This time the evening was very rough since I was struggling with a mix of technical problems (autogain should be renamed to autopain) and the fact that I had forgotten about significant portion of my library during covid. The feedback I got was "you struggled to maintain the crowd like the guy on the evening before did, but you can play again". My guess is that if I don't do better this weekend, there's a strong implication that I can't play there again. I'm trying to figure out if I should take the risk and play there again or take a week+ off.
Here is his review
I'm old enough that whenever I hear DJs mention their multiple residencies, I think back to a time, guessing the mid to late 80s? when the term "resident DJ" referred to the house DJ. If you had a residency, it meant that you were that club's main, core DJ. You knew all the employees, worked with management on format and promotions, oversaw any other guest DJs, and kept up the DJ equipment and maybe even the sound and lighting systems. You didn't have more than one residency, just like in life you most likely have one place you call home. And you may have played other clubs, but your residence was that main club.

What are the prospects in China at this moment for foreigner DJs?
What's the best way to book gigs there?
Are there agencies specialized in the Chinese market?
Is it possible to live there with a working visa and a salary from a DJ residency or touring?

Please drop your lines if you have more questions about DJ jobs in China: